THICH NHAT HANH
Thich Nhat Hanh, poet, gardener and tireless advocate of peace,
continues to offer us lessons in everyday wisdom.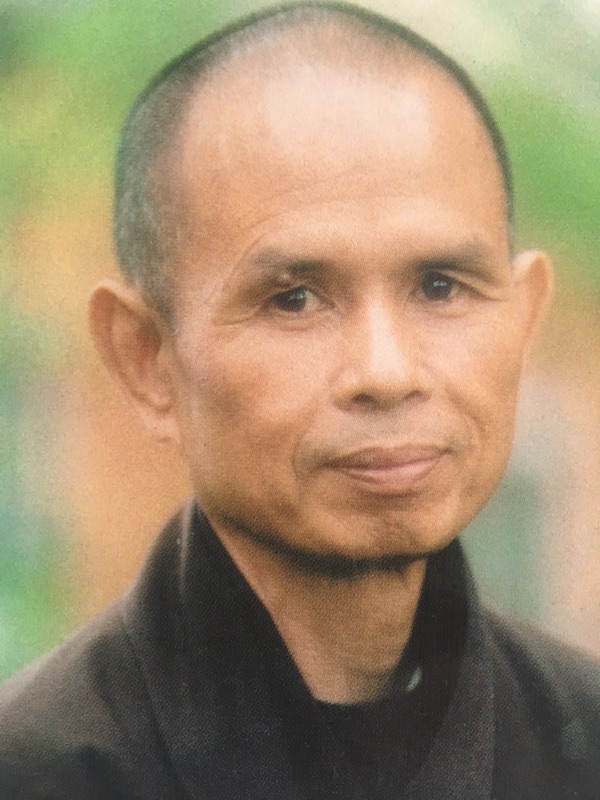 You may enjoy Thich Nhat Hanh's first book in English, The Miracle of Mindfulness (1975), his classic Peace is Every Step, or his interview with Jo Confino, executive editor of the Guardian at https://vimeo.com/37096244.
The Miracle of Mindfulness helped put the word "Mindfulness" in the English dictionary; Peace is Every Step is an inspirational book—reading a page or two before you sit down to meditate will energize your practice.
The Sun, My Heart is my personal favourite. "Take it with you on the bus or the subway," Thich Nhat Hanh recommends in the Introduction, "You may like to read a few lines, then close it and put it back in your pocket, and read another few lines sometime later."
If you want to read the best of Thich Nhat Hanh, a good place to start is just to Google "Thich Nhat Hanh quotes" and click on Goodreads. That site has 68 long pages of quotes from his various books and talks—2024 of them, some, half a page long.
Thich Nhat Hanh shows us ways to follow Buddha's teachings that are appropriate for our day:
"When another person makes you suffer, it is because he suffers deeply within himself, and his suffering is spilling over. He does not need punishment; he needs help. That's the message he is sending."
"Sometimes your joy is the source of your smile, but sometimes your smile can be the source of your joy."
"If in our daily life we can smile, if we can be peaceful and happy, not only we, but everyone will profit from it. This is the most basic kind of peace work."
"When you plant lettuce, if it does not grow well, you don't blame the lettuce. You look for reasons it is not doing well. It may need fertilizer, or more water, or less sun. You never blame the lettuce. Yet if we have problems with our friends or family, we blame the other person. But if we know how to take care of them, they will grow well, like the lettuce.
"You have the Buddha in you. It is your capacity to wake up, to understand, to love. The Buddha is not on a cloud. The Buddha is awakening, understanding, and compassion, and you have buddha nature. Practice helps buddha nature grow."
(For me, that makes it easier to listen to Buddha's voice—I do not need earphones to hear it, as the voice comes from inside. It has been saying, "Don't be intoxicated with your own self. Try to see also with the thousands of eyes, and to listen with the thousands of ears of other beings.")