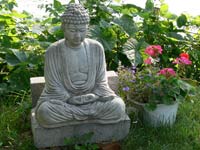 Clients have used the mindfulness training provided in private coaching to improve their meditation practice, or to deal more effectively with issues related to relationships, mindful eating for better health and weight loss, burnout, and stress.
Mindfulness is a basic skill of self-awareness that is the first step towards making effective changes.
Private sessions allow you to focus on your issues directly.
Each session is 80 minutes long, and can be scheduled to suit your convenience. In writing to arrange a session, please mention your time preferences and constraints.
Sessions are scheduled in Pointe-Claire (on the 211 bus line and close to Rt. 20). Please write to Joseph Emet for fees.