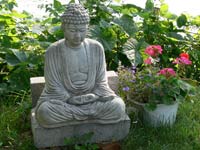 A typical session of Mindfulness Coaching starts with a short period of conversation.
It continues with a Focused Guided Meditation tailored to bring awareness and reflection into the specific challenges that were discussed during the initial conversation. Whereas meditation practice without a specific focus may take a long time to produce desired results, Focused Guided Meditation quickly goes to the heart of your concerns. People typically find that five or six sessions of coaching are sufficient to address their area of interest, and to establish their own personal practice.
Mindfulness is a basic skill of self-awareness that is the first step towards making effective changes. For this reason it is part of a number of therapeutic approaches such as Mindfulness Based Acceptance and Commitment Therapy and Mindfulness Based Cognitive Therapy. Mindfulness Training is also effective in dealing with chronic pain, weight and anxiety problems. You can pursue a course in mindfulness meditation training (MMT) either as complement to various forms of therapy, or by itself as a form of self-awareness leading to wholesome changes.
Private sessions allow you to focus on your issues directly.
Each session is 90 minutes long, and can be scheduled to suit your convenience. In writing to arrange a session, please mention your time preferences and constraints.
After each session you will receive a Guided Meditation as an MP3 file for daily home practice. The GM's are 15 to 20 minutes long, and may be supplemented by suggested readings.
Sessions are scheduled in Pointe-Claire (on the 211 bus line and close to Rt. 20). Please write to Joseph Emet for fees.